Glasgow's SECC sets goal of 'best event campus in Europe'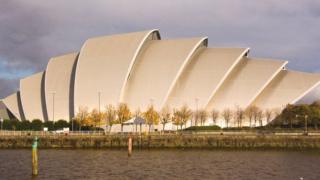 The owners of the Scottish Exhibition and Conference Centre (SECC) in Glasgow have unveiled plans to create "the best event campus in Europe".
SECC has commissioned a feasibility study to establish "viable options" for upgrading and enhancing the campus.
The site includes the SSE Hydro arena, which attracted more than one million visitors last year.
The plans were set out as the company reported strong financial results for the year to the end of March.
Turnover and pre-tax profits both fell on the previous year, when the Commonwealth Games were staged.
However, stripping out the impact of the Games, turnover rose to £29.4m while earnings before interest and tax rose to £3.8m.
The company reported a record year for conferences, with 16 international events and 18% growth in revenue.
Turnover from exhibitions increased by 17%, while turnover from live entertainment was in line with the previous year.
'Extremely encouraging'
SECC chief executive Peter Duthie said: "Whilst not repeating the record levels of the previous year which were driven by the Commonwealth Games, these results are extremely encouraging with growth throughout the business.
"Over the past few years we have invested in the campus facilities, primarily in the construction of The SSE Hydro and related infrastructure and already are seeing the benefits.
"Trading profits will continue to be reinvested to ensure the existing facilities meet the needs of our customers in an increasingly competitive market."
He added: "An overall vision for the business - 'To be the best event campus in Europe' - has been adopted with the mission statement: 'Best Venues, Best People, Best Events'.
"This vision and mission will drive the strategy for the group in the years to come."
Last week, Glasgow City Marketing Bureau (GCMB) reported that it secured conference revenue of £141m in the year to the end of March - its best return on record.
GCMB, which part of Glasgow City Council's Glasgow Life arm, said four major conferences alone brought more than 10,000 delegates to the city, boosting the local economy by more than £15m.
A report last month by industry body the International Congress and Convention Association (ICCA) showed Glasgow attracted more international delegates in 2015 than major competitors including New York, Munich, Washington, Dublin and Beijing.
Nearly 37,000 overseas delegates visited last year, placing the city 28th overall in ICCA's index of 400 cities.
Glasgow also recorded its largest number of international conferences in a single year, with 54 meetings taking place in the city in 2015.