Supreme court agrees bank was 'misled' over Glasgow property deals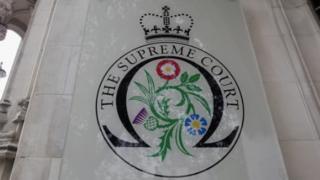 Two Glasgow businessmen have failed to win back properties after a ruling was upheld that they had misled a bank in order to divert assets from creditors.
Ralph Pelosi snr controlled three firms which went into administration in 2011.
Beforehand, he paid £2.414m to a bank, which thought the cash came from the sale of five properties it had security over. Only one was sold and the four others transferred to Mr Pelosi's son.
The Supreme Court ruled these should now go to administrators.
The Supreme Court ruling was delivered by Lord Reed and endorsed by justices Lord Neuberger, Lord Sumption, Lord Carnwath and Lord Hodge.
Bank securities
It upheld the findings of two previous hearings at the Outer and Inner houses of the Court of Session in Edinburgh.
The court heard that the firms, Oceancrown Ltd, Loanwell Ltd and Questway Ltd, were part of a group of companies controlled by Ralph Pelosi snr.
His son Ralph Pelosi jnr was was the sole shareholder and director of another firm, Stonegale Ltd.
Oceancrown Ltd, Loanwell Ltd and Questway Ltd owned five properties in Glasgow Road and another in Roslea Drive.
The court heard that the then Anglo-Irish Bank held standard securities over each of these five properties, having made a credit facility of £17.3m available to Oceancrown, which was cross-guaranteed by Loanwell and Questway.
In August 2010 the bank's solicitors were informed about the relevant sale price in relation to the release of the five properties from the bank's securities.
They were told that the sale of all five was estimated to generate £2,414,000.
On 10 November 2010, Oceancrown sold one of the Glasgow Road properties for £762,000 to a company called Strathcroft Ltd, which was also owned by Mr Pelosi snr.
Regeneration firm
On the same day, Strathcroft sold the same property to local regeneration company, Clyde Gateway, for £2,467,500, a sum far in excess of an earlier valuation of £762,000.
Strathcroft, on the instructions of Mr Pelosi snr, then sent the bank £2,414,000 which released the standard securities over all five properties.
On 24 November 2010, nine months prior to the companies entering administration, three properties were transferred to Stonegale Ltd, and one property was transferred to Mr Pelosi jnr directly. Nothing was paid for these properties.
When administrators later challenged these transactions, a judge at the Court of Session found that "the bank was misled in relation to the funds it received" as it believed all five properties had been sold.
The judge also found that Strathcroft's involvement was to "provide a short-lived intermediary between Oceancrown and Clyde Gateway", describing it as "a cog in Mr Pelosi's machine".
The Supreme Court agreed that as a consequence of misleading the bank, the Pelosi companies retained the other four properties valued at £1.525m, free of the bank's standard securities and that this amounted to gratuitous alienation - in lay terms a gift that was open to legal challenge by the administrators.
Lord Reed found that the transactions had the purpose and effect of diverting assets from the companies' creditors, which was exactly what the Insolvency Act was intended to prevent.