Melissa Reid can 'move on' from Peru jail term, ex-trafficker says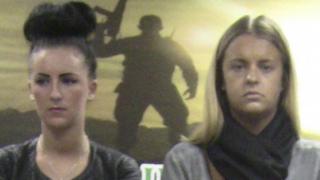 Melissa Reid should treat her time in a Peruvian jail as a "practical university experience", former heroin trafficker Sandra Gregory has said.
Gregory, who spent four years in a Thai jail, said she believed Reid had been "groomed" into taking 24lb (11kg) of cocaine into Lima airport in 2013.
Reid, 22, from Lenzie, near Glasgow, has been released after serving about one-third of her sentence.
Gregory, 50, said: "She can learn from it and put it to bed."
Speaking to BBC's Good Morning Scotland programme she added: "I hope it is a lot easier for Melissa - she's a lot younger than I was. She's been away for less than three years.
"Hopefully it's the equivalent of a practical university experience that she can move on from."
Gregory was initially sentenced to death in Thailand after being caught with 3.1oz (89g) of heroin at Bangkok's Don Muang Airport in February 1993.
That was eventually commuted to life imprisonment and she spent more than four years in a Thai prison before being transferred to the UK and eventually given a royal pardon by the King of Thailand in 2000.
She told of the difficulties Reid and her friend Michaela McCollum, 23, of Co Tyrone, who was convicted alongside the Scot over the £1.5m find, face even after they return home.
'Fumbling about'
Gregory said: "It will be hard. I'm sure she'll have a criminal record and in this computerised age it shows up and it is relevant.
"I've always thought honesty is the best policy.
"When they were both arrested all those years ago they were fumbling around in front of the cameras, they had no advice, they weren't quite sure what to say, they were overly nervous and in shock.
"I do think that you should take the bull by the horns and 'fess up, be honest, humble, say your apologies and own your mistakes
"When I first meet people it is relevant - it seems to be the most relevant point - but what I say to people is I made a mistake.
"She has made a mistake. Has nobody else ever made a mistake?"
'Textbook case'
Gregory said she believed the two women, who were both 20 when they were sentenced, had been "groomed" into carrying out the crime.
She said: "A couple of years ago when I saw Melissa and Michaela on the TV my heart sank. I got quite upset.
"This was very much a textbook case.
"Girl goes abroad, girl meets boy, girl gets arrested at the airport.
"Unfortunately it happens on a frequent, if not regular, basis all over the world in the drugs hot spots.
"Men groom women. There is normally a sexual connotation to that but they can be groomed for other reasons as well.
"I do think that Melissa and her friend were groomed by these boys, threatened and forced to go through the airport."