Prisoner sentenced for Barlinnie jail sex attacks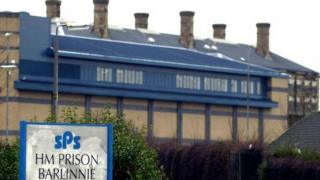 A prisoner who sexually assaulted a fellow inmate and two members of staff at Glasgow's Barlinnie jail has had his sentence extended by 21 months.
Rashad Maliki, 29, who is originally from Iraq, admitted five charges between May and August last year.
Glasgow Sheriff Court heard these included making sexual gestures and physical and sexual assaults.
The new sentence will begin when his current jail-term ends. Maliki was also placed on the sex offenders' register.
Sheriff Paul Crozier told Maliki: "Your conduct whilst in custody has been deplorable."
The court heard that the first of the sexual assaults occurred in June last year when Maliki inappropriately touched a fellow prisoner while in a cell.
He carried out a similar attack the following month when a prison officer was in his cell.
In August, Maliki sexually assaulted another prison officer in the hallway of the jail and grabbed the man by the throat.
He also admitted making sexual gestures at a female nurse at the jail and physically pinning her to a chair.