Bus driver arrested over gay ban claim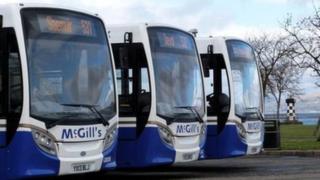 A bus driver has been arrested over claims he verbally abused a young gay couple and barred them from his bus.
The incident is alleged to have taken place on board a McGill's bus in Glasgow on Friday 10 June.
The driver is reported to have sworn and told the two 20-year-old male passengers that "people like you" should not be on the McGill's bus.
Police Scotland confirmed a 46-year-old man was arrested under a law that deals with homophobic offences.
A spokeswoman said: "We can confirm that on the 17th June a 46-year-old man was arrested in connection with an alleged offence under section 38 of the Criminal Justice and Licensing Act 2010 which is alleged to have occurred in Peat Road, in Pollok, on June 10.
"A report will be sent to the procurator fiscal."
The couple are reported to have described sitting in shock during the journey, but said they challenged the driver as they got off.
They claimed he told them they were banned from using McGill's buses in future and that he refused to let them on his bus a few days later.