Hundreds gather in Glasgow's George Square for Orlando vigil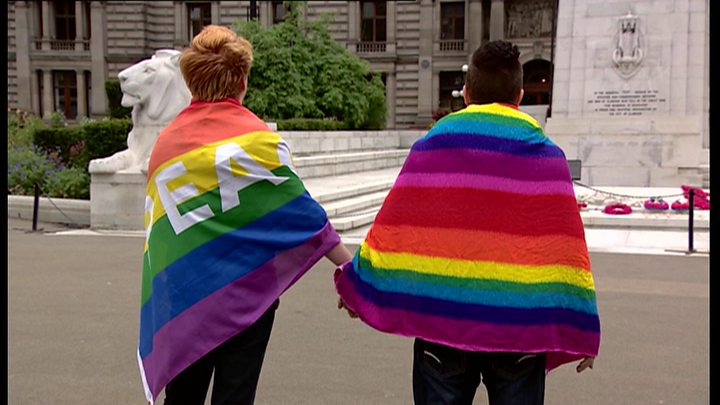 A vigil has been held in Glasgow's George Square to remember the 49 people who were shot dead at a gay nightclub in Florida on Sunday.
Omar Mateen targeted Orlando's Pulse club before being killed by police.
More than 600 people attended the hour-long vigil, billed as "Glasgow Stands With Pulse Orlando".
A one minute silence is also to be held in the chamber at the Scottish Parliament on Tuesday in memory of the shooting victims.
The rainbow Pride flag, a symbol of the lesbian, gay, bisexual, and transgender (LGBT) community, has been flying over the Scottish government's headquarters.
In George Square on Monday evening, people laid floral tributes and lit candles, and a piper played Flower of Scotland.
The names of the victims gunned down at the Pulse nightclub were read aloud by Joanna Branch, a student from South Carolina.
She said: "We're here to mourn the loss of lives at a nightclub where people thought they were safe to be who they wanted to be."
Clo Meehan, from the Free Pride Glasgow group, which organised the vigil, said the Orlando attack had been perpetrated on a community that already felt very vulnerable.
"It's really important that we can just be together at the moment," she told BBC Scotland.
"The fact is that for a lot of us who are LGBTQ, part of that community, seeing that kind of hatred is not as much of a shock because it is just an extreme of the hatred that we do we face every day, from harassment on the street, harassment from our family and our work places.
"It really does hit home for us because it just reminds us that even in spaces like a gay nightclub, which is supposed to be a safe space for us, we can still be subjected to that kind of violence."
Those attending the Glasgow vigil said they were there to "show solidarity with those in Orlando".
One man, named Michael, said: "The signal that we want to send today is despite the strength of the hatred against us, our love can overcome it."
Another vigil-goer, Kate, said: "There's no place for homophobia, biphobia or transphobia in this world."
Mohammad Asif, from the Afghan Human Rights Foundation, was also among those attending the vigil.
He said: "The murderer was of Afghan origin and we are here to show solidarity and stand shoulder to shoulder.
"No matter what their colour is, their beliefs are, whether they were gay or lesbian, or Muslim or Jews or Christians or Hindus, at the end of day they were innocent human beings.
"They were brutally killed by a mindless and heartless individual."
Rev Kelvin Holdsworth: "It's a feeling that something has to be done, even if it's just standing beside one another. We need to change the homophobia that's still present in society."
'Act of hate'
Earlier, First Minister Nicola Sturgeon tweeted: "The #Pride flag will fly at half mast over @scotgov HQ today in memory of those whose lives were taken in #Orlando. #lovewins".
Glasgow City Council has also flown the rainbow flag at half-mast over the City Chambers in George Square, with Lord Provost Sade Docherty saying: "Our thoughts and prayers are with all those affected by the terrible atrocity."
After news of the shooting, which injured 53 others, emerged on Sunday, Ms Sturgeon said that "no words can convey my horror and sadness".
Scottish Conservative leader Ruth Davidson, who proposed to her partner Jennifer Wilson in May, wrote: "News from Orlando is shocking - people from all around the world stand with the LGBTQ community today."
Scottish Labour leader Kezia Dugdale, who confirmed she was gay two months ago, tweeted: "Scenes from Orlando utterly heart-breaking. The very freedom to love and dance attacked in the most brutal, destructive and senseless way."
After President Obama had called the shooting "an act of terror and hate", Scottish Liberal Democrat leader Willie Rennie tweeted: "The President speaks for me. We must stand together against this hate."
Omar Mateen killed at least 49 people and wounded 53 more in the deadliest mass shooting in recent US history, before being shot dead by police.
The so-called Islamic State (IS) group has since claimed responsibility for the attack.
However, President Obama has said there is no clear evidence that the gunman was directed by IS.
An FBI spokesman said that Mateen had called the emergency services before the attack and sworn allegiance to IS.
His father, Seddique Mateen, said his son had been angered after seeing two men kissing in Miami.
In the aftermath of the shooting, communities around the world have been organising vigils to remember those who were killed and injured.
A similar vigil event, "Edinburgh Stands With Orlando" is set to take place in the capital's St Andrew Square on Wednesday from 19:00 until 19:45.