Gas alert at Glasgow's Quay entertainment district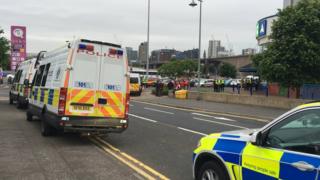 Large numbers of emergency service personnel were called to a popular entertainment area in Glasgow after reports of a gas leak.
Police officers and firefighters attended the Quay, on the south bank of the River Clyde at about 19:00 on Friday.
The area includes a cinema, casino, bingo hall and several restaurants.
Police said later no evacuation of buildings had been necessary during the incident.