'War zone' in Cardowan street as men hurt in attack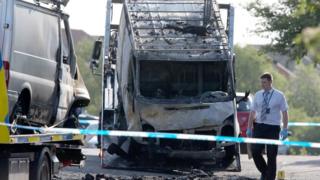 Three men have been hurt in a "targeted attack" in North Lanarkshire which saw vehicles set alight and a village street left resembling a "war zone".
The incident in Frankfield Road, in the Cardowan area of Stepps, just north of Glasgow, began at 13:30 on Sunday.
Witnesses spoke of tyres blowing up, burnt-out vans and a blood-covered man. Police said the incident was most likely to be "rival gangs fighting".
The three injured men are in a stable condition in hospital.
Det Supt Stephen Grant said: "Officers are continuing inquiries after three men were left injured in what we understand is a targeted attack in the Cardowan area. These three men are in a stable condition.
"This was a brazen incident on Frankfield Road, involving a number of vehicles being set alight.
"A substantial police response followed the initial reports."
Neighbours told BBC Scotland reporter John McManus that the disturbance, in the town which lies on the outskirts of Glasgow, started at about 13:30.
Photographs posted by local residents on Facebook showed thick black smoke and two burnt-out vans being hosed down by firefighters.
Events 'very rare'
Another posted: "Just dropping the kids off in Cardowan and Frankfield Rd has been closed, it's like a war zone two vans on fire."
Another resident, Frank Kerr, 59, said: "I saw a boy sitting in a paramedic's van. He was covered in blood, but I didn't see what happened to him.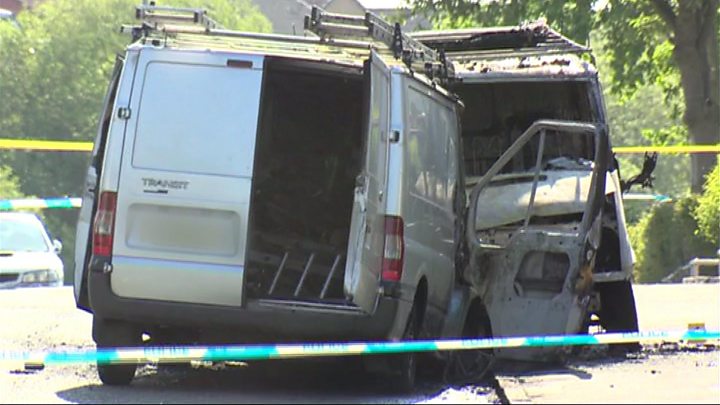 "It's very rare for this neck of the woods. There was a fire at the end of the street, and I heard tyres blowing up.
"There were police, fire brigade, ambulances, tow trucks, you name it, everything was here."
One eyewitness said he saw flames "as high as a house", before the emergency services arrived.
Police have sought to reassure residents saying a "significant" number of officers remained in the area as door-to-door inquiries were carried out.