Emergency crews deal with van blaze in Cardowan street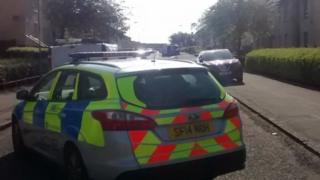 Emergency services have been dealing with an incident involving burning vans on the outskirts of Glasgow.
Pictures from the scene on Frankfield Road in Cardowan, near Stepps, showed a fire and a large numbers of emergency vehicles.
The ambulance service has confirmed one person has been taken to hospital. Police Scotland have not confirmed if there are any more casualties.
Frankfield Road has been closed as officers deal with the incident.
Neighbours told BBC Scotland reporter John McManus that the disturbance started at about 13:30.
Photographs posted by local residents on Facebook showed thick black smoke and two burnt-out vans being hosed down by firefighters.
Another posted: "Just dropping the kids off in Cardowan and Frankfield Rd has been closed, it's like a war zone two vans on fire."
One of the vans has now been removed from the scene.