SDL demo met with large counter-protest in Glasgow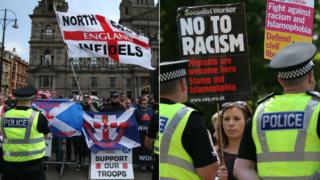 A demonstration by the Scottish Defence League (SDL) has drawn a large counter-demonstration in the middle of Glasgow.
The SDL group held flags and signs with the words Homes For Heroes, Not Immigrants, Stop Foreign Aid and No More Mosques.
Metal barriers and a row of police officers separated the group from hundreds of anti-SDL campaigners in the city's George Square.
Chants of "Refugees go home" were met with "We welcome refugees".
Representatives from the STUC, Unite Against Fascism, the Scottish Greens, Communist Party, Scottish Refugee Council and the Glasgow Campaign to Welcome Refugees gathered in the city centre from noon and heard from a number of speakers before the SDL group arrived about an hour later.
Glasgow MSP Sandra White told the counter-protesters: "They will not get a welcome here, not in Glasgow and not in Scotland.
"Everyone here should be applauded for standing up against racism."
The SDL group remained in the square for about 35 minutes before moving on.