Man injured in early-morning Glasgow gang attack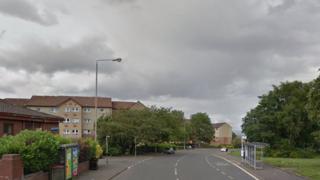 A man has sustained what police describe as a "significant" head injury in an early-morning attack by a gang of youths in Glasgow.
The 23-year-old victim was walking alone on Castlemilk Drive near the junction with Dougrie Drive at about 00:40 before the incident.
Police said between six and 10 youths - both male and female - approached the man before attacking him.
The man is being treated at Glasgow's Queen Elizabeth University Hospital.
Det Sgt Martin Smith said: "Our inquiries are at a very early stage, however, it is believed that this attack was unprovoked. Unfortunately due to the severity of the victim's injuries, we've been unable to speak to him as yet.
"Where the assault took place is a very busy thoroughfare, and even at the late hour would have been busy with taxis or other motorists coming from the city centre or going in to the city centre. The victim had been walking home from a nearby licensed premise when he was assaulted."
He added: "I would like to speak to anyone who may have witnessed this terrible attack on this young man. At the moment we have no clear motive for the attack which is very concerning."