Plane in near miss with drone close to Glasgow Airport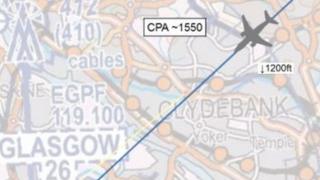 A plane on approach to Glasgow Airport two months ago almost collided with a drone, it has emerged.
The UK Airprox Board, which deals with near miss incidents, said the pilot of a Boeing 737 reported seeing a drone about 100ft below him.
The incident happened while the plane was flying at about 1,200ft, north of Clydebank, at 15:50 on Sunday 6 March.
A report said the pilot did not have time to take avoiding action and there was "a definite risk of collision".