Items made from remnants of Glasgow School of Art fire to be auctioned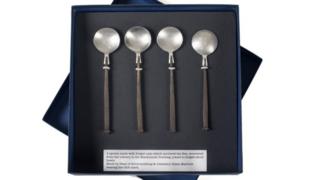 Spoons and brooches made from remnants of Glasgow School of Art's fire-damaged Mackintosh building are to be auctioned in New York next month.
The items will be sold to raise funds for the Mackintosh Campus Appeal, which has a target of £32m.
The appeal will help pay for the restoration of the the Grade A-listed art nouveau building whose upper floors were gutted by fire in 2014.
It will also fund a planned expansion of the art school's Garnethill campus.
Glasgow School of Art's (GSA) head of silversmithing and jewellery, Helen Marriott, has crafted a unique set of four silver spoons, the handles of which are made from original hand-forged nails recovered from the Mackintosh Library.
The auction will also feature brooches, crafted by joint head of silversmithing and jewellery, Anna Gordon, which incorporate fragments of painted and charred wood retrieved from the Mackintosh building.
Michael Pell, a lecturer in the silversmith and jewellery department, has also crafted a tiepin for the auction, which was made from an original nail in the Mackintosh building.
The auction will be held at a gala dinner in New York on 2 June, which is the last of three events in the city to launch the Mackintosh Campus Appeal in the United States.
GSA director Prof Tom Inns said: "These events are a tremendous opportunity for the GSA to raise awareness of our exciting plans for the restored Mackintosh building and Garnethill campus, as well as the need for philanthropic support from around the world to make them a reality.
"We are grateful to our team of supporters in New York who have worked with the GSA's Development Trust to bring together this programme of events for the US launch of the appeal."
GSA's fundraising drive in the United States gets under way on 31 May with a reception at the New York offices of Grimshaw Architects.
The following evening will see a lecture in the Frederick P Rose Auditorium at The Cooper Union.
The iconic Mackintosh building was badly damaged by fire on 23 May 2014.
An investigation by the Scottish Fire and Rescue Service concluded the blaze was caused by flammable gases from a canister of expanding foam.
The report said the gases ignited as they came into contact with the hot surface of a projector.