'Despicable' rapist who tortured victim is jailed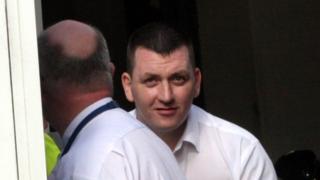 A man has been jailed for eight years after he was convicted of a "despicable attack" on another man who was raped, tortured and robbed.
Joseph O'Reilly, 37, and James Mair, 40, encountered the 36-year-old victim in Glasgow on 17 July last year and accepted a lift in a taxi to Paisley.
O'Reilly carried out the prolonged attack after the victim invited him and Mair back to his bedsit for drinks.
Mair was jailed for 18 months after he admitted assault and robbery charges.
Jailing O'Reilly at the High Court in Stirling, judge Lord Turnbull told him he had been convicted of "conduct of a most despicable nature".
'Contempt' for victim
The judge said: "Nothing could more powerfully illuminate your contempt than your conduct on leaving, when having raped, beaten, slashed and terrified your victim, you then urinated on his body whilst he was tied, prone, to his bed."
The court heard that O'Reilly targeted his victim after spotting him at a taxi rank in Glasgow.
After finding out that the victim lived alone in Paisley, O'Reilly pretended he lived there too so as to share a taxi home.
When they got there, O'Reilly and Mair accepted an offer from the Polish victim to try vodka.
O'Reilly later turned on the victim in his bedsit.
Through an interpreter, the victim told the court that when O'Reilly realised he was gay, he started laughing and asked if he liked certain acts.
O'Reilly then raped him twice after which he was repeatedly beaten and tied to his bed.
Forced confession
O'Reilly then grabbed his phone and bank card, and demanded his PIN.
When he refused, O'Reilly drew a knife across his face and slashed his buttocks.
O'Reilly then used his phone to video a forced confession where the victim was made to lie that he had invited his attackers back to his flat for sex.
He also cut off some of the victim's hair and pushed it into his mouth.
As he left, O'Reilly urinated on the victim and threatened to kill him if he notified police or if the PIN was wrong.
The victim was eventually freed when his landlord arrived for rent and realised something was wrong.
O'Reilly later withdrew cash and bought trainers using the victim's bank card.
After both men were arrested, Mair gave evidence for the prosecution, without which the judge said it would not have been possible to convict O'Reilly of rape.