Views sought on concepts for Famine Memorial in Glasgow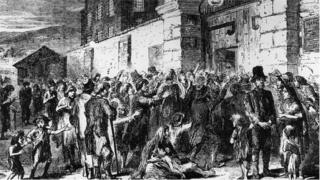 Views are being sought on a landscaped memorial in Glasgow to those who died in the potato famine which blighted Ireland and the Scottish Highlands.
Ideas by artists and pupils at four city schools have gone on display.
These can bee seen at Govanhill Library, Partick Burgh Hall, The Bridge in Easterhouse and the City Chambers.
Comments on these concepts will shape the final design. The finished memorial will likely be sited at Glasgow Green and funded by public subscription.
'Desperate circumstances'
Councillor Matthew Kerr, chairman of the city's Memorials Working Group, said: "The Glasgow we know today simply could not exist without immigration - and the people who made their way to the city from all over Ireland, the Highlands and the Islands in such desperate circumstances are a huge part of that story.
"Like others who have sought refuge from persecution, hunger and poverty down the decades since, their experiences and their journey will always be part of this city, and Glasgow a richer place for it."
Glasgow City Council began looking at a memorial in 2012 after Partick West Councillor Feargal Dalton secured a motion that the famine had had a significant cultural, economic and social impact on the modern-day character of the city.
The authority set up a working group to examine the nature of the memorial and where it may be sited.
Critics have argued that the process has been too slow and pointed out that there were already 142 memorials across the globe to those who fled from Ireland during the 1840s.
The council said it had sought to proceed with a memorial by establishing "a broad and inclusive membership - both in terms of political groups within the council and community representatives".
'Human tragedy'
It asked pupils from Rosshall Academy, Lourdes Secondary, St Thomas Aquinas Secondary and Sgoil Ghàidhlig Ghlaschu (Glasgow Gaelic School) to work on the project at the Tramway's visual arts studios.
Their concepts for a landscaped memorial, using native plants and materials, along with structures and sculpture, have gone on display at four venues across the city.
Public comments will be fed back into the final design process to help steer the development of the memorial.
Councillor Dalton added: "The enormous human tragedy that was An Gorta Mór/The Great Hunger had a major impact here in Glasgow and has left a lasting legacy. Many of us are the children of the survivors who sought refuge in Glasgow.
"This memorial will provide the citizens of this city with an opportunity to remember, reflect and re-imagine our role in the world as a city that welcomes those who seek refuge."