Women sentenced over 50 Shades of Grey Glasgow cinema attack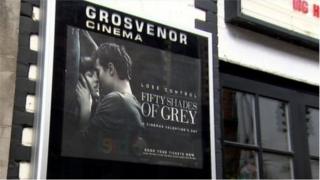 Three women have been sentenced over an attack on a couple at a Glasgow cinema during a Valentine's Day showing of the film Fifty Shades of Grey.
Isabel Munro, 52, Phyllis Ross, 52 and Carolanne Munro, 32, were asked to stop making "sexually explicit" remarks by Jacqueline Coia and her husband Martin.
Isabel Munro assaulted them and another woman. Carolanne Munro swore and acted aggressively and Ross attacked Mr Coia.
Carolanne Munro and Ross were fined and Isabel Munro was given unpaid work.
'Lost control'
Glasgow Sheriff Court previously heard that the women were part of a group of six who had been socialising in the afternoon before the 17:40 showing at the Grosvenor Cinema in the city's west end on 14 February 2015.
During the film, the Coia's asked the women to refrain from making noise after some "sexually explicit" remarks were made.
Mr and Mrs Coia were sitting beside them and had to walk by them to leave.
When the couple got up, Carolanne Munro commented to Mrs Coia about her complaining during the film.
Seconds later Mrs Coia "found herself on the ground", where Isabel Munro was sitting.
Victim's wounds
The court heard that Isabel Munro threw wine over Mrs Coia, hit her on the head and pulled her by the hair towards the ground where she continued to strike her on the head and body.
Mrs Coia suffered a bloodied nose, bruising and a slight loss of hair.
Mr Coia was also attacked and suffered scratches on the head, understood to have been inflicted by Isabel Munro, and he was pulled to the ground "almost on top" of his wife.
Both Munro and Ross continued to repeatedly hit him at the same time as his wife was being assaulted.
Mr Coia also suffered a bloodied nose and had scratch marks on his face and bruising on his legs and torso.
Passing police officers were summoned to the cinema and the three women were detained.
As Isabel Munro was being led out, she assaulted another woman who allegedly laughed at her.
Carolanne Munro began to act aggressively towards police and shouted and swore.
Isabel Munro was ordered to carry out 90 hours of unpaid work after she admitted three assault charges
Ross was fined £450 following her guilty plea to an assault charge.
Carolanne Munro was fined £200 after she admitted to shouting, swearing and behaving in an aggressive manner.