Five people rescued from blaze at flats in Dalmuir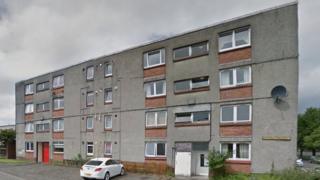 Firefighters have rescued five people from a blaze at a block of flats in Dalmuir, West Dunbartonshire.
Crews were called to the fire at the four-storey block in Ottawa Crescent at about 17:40 on Thursday.
A woman, two children and two men were rescued from the upper-floors and given care until paramedics arrived.
The men were treated in hospital for the effects of smoke inhalation. The woman and children were refereed for precautionary check-ups.
After the blaze was extinguished, residents were able to return to six of the building's eight flats.
The fire service and Police Scotland are conducting a joint investigation into the cause of the blaze.