'Mini explosion' due to power surge in Glasgow city centre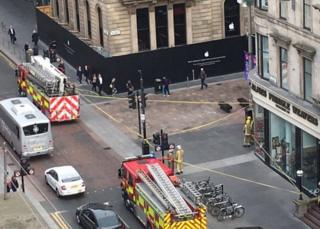 A power surge on electrical cables in Glasgow resulted in 115 properties being left without electricity and sparked reports of a "mini explosion".
Fire crews were called to the scene in Buchanan Street on Tuesday morning after reports of a "bang" from a drain.
An area at the junction with St Vincent Place was cordoned off.
Scottish Power later said all properties affected at about 08:00 had been re-connected by 09:25 and there was "no evidence of any explosion".
A spokesman said: "We apologise for any inconvenience. We will now work to repair the cable fault.
"There was no evidence of any explosion. A bang was heard but the fault occurred several feet underground."
'Report of a bang'
Strathclyde Partnership for Transport said the situation "resulted in a power surge affecting signalling" on the city's subway and warned of delays to services.
A spokeswoman for the service said: "We received a report of a bang coming from a drain in Buchanan Street.
"We requested Scottish Power. It was some electrical cables which Scottish Power have isolated."
Twitter users had described the incident as a "mini explosion".
Nick Kewney tweeted: "Missed a mini explosion on Buchanan Street by about 5m! Nobody seems worried so guessing it's a gas pipe."
Police Scotland said there were reports of a power cut in the area and smoke coming from a drain.
The fire service said no fire had to be dealt with and the incident had been passed on to Scottish Power.