Rare World War One German gun saved in Campbeltown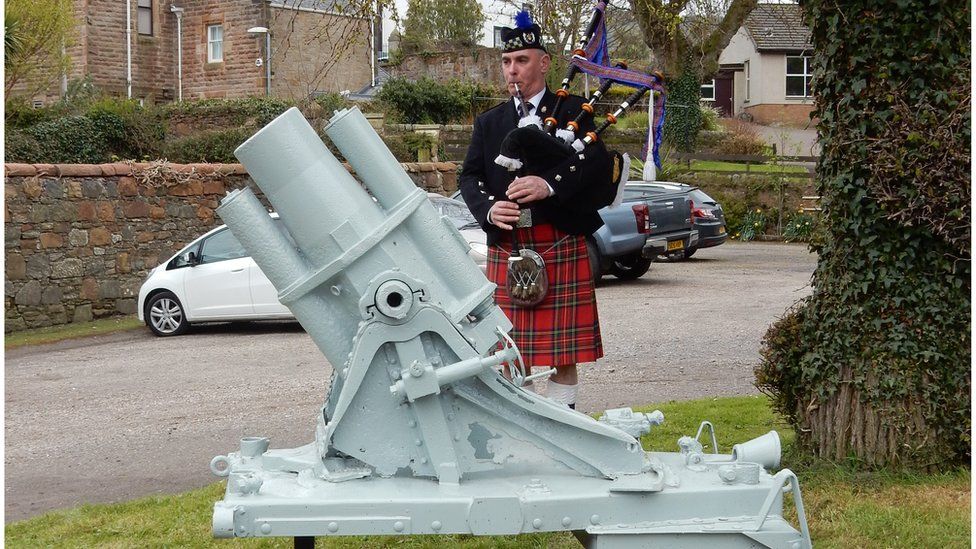 A rare German gun from World War One has been saved after an enthusiast revealed its importance.
The minenwerfer gun was given to Campbeltown in Argyll and Bute as a spoil of war after the conflict ended in 1918.
It has been displayed in the town over the years but nobody was aware of its rarity or origin.
The gun has now been restored and placed outside the town's heritage centre.
The minenwerfer gun is a type of trench-mortar which was developed for the German army in the years before World War One as a short-range weapon with a heavy punch.
They could be used to destroy strongpoints, machine-gun posts or barbed-wire entanglements.
Most minenwerfers were built in Düsseldorf but the markings on this one suggest it was built in 1917 in Chemnitz, Saxony.
It is believed there are just two minenwarfers in the UK - the other is in the possession of the Imperial War Museum. Only a handful of these guns are still in existence.
Many German guns and other spoils of war were given to towns across Britain after the end of World War One but some were later melted down.
This gun had been on display at various locations around Campbeltown over the years, including the harbour.
Campbeltown Heritage Centre only became aware of its rarity and true story after an enthusiast told them about it. Locally, it had been widely presumed to be a naval gun from Turkey of little special interest.
The gun was officially unveiled at a ceremony attended by one of the town's best known figures, Patrick Stewart, a retired lawyer who is also the Lord Lieutenant of Argyll and Bute.
His great uncle, John Balfour 'Jack' Jones, was a lance corporal in the Cameron Highlanders who died in the Battle of Loos in 1915.
The injuries sustained by Lance Corporal Jones and his comrades suggest they may have died as a result of a shell fired by a minenwarfer.