Bank of Scotland teller jailed over £39,000 embezzlement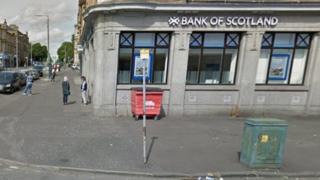 A customer services adviser with the Bank of Scotland has been jailed for nine months for embezzling £39,000 from the accounts of two elderly customers.
Sean Adams, 30, stole from accounts held by Esme McKay and another woman between 2012 and 2013 while working at the Pollokshields branch in Glasgow.
He was caught after Mrs McKay's daughter spotted a problem with her account, prompting an investigation.
Adams, who later resigned, admitted a charge of embezzlement.
He has since signed over his pension to the bank to start repaying the money.
'Unexplained' withdrawals
Jailing him at Glasgow Sheriff Court, Sheriff Sam Cathcart told Adams that the "only appropriate means of dealing with him" was with a custodial sentence.
The court previously heard that Adams, from Paisley, Renfrewshire, worked as a customer service adviser at the bank in September 2013.
Mrs McKay and her daughter had gone into the branch on Albert Drive to sort her finances out.
Procurator fiscal depute John Bedford told the court: "When checking through the complainer's listed transactions for the previous three months her daughter noticed 11 withdrawals of £1,200 that appeared to be unexplained.
"Mrs McKay maintained that she had not withdrawn the money."
The matter was referred to the bank's fraud department and an investigation revealed that Adams' unique access code had been used to process the unauthorised withdrawals.
The court heard that there were no withdrawal slips archived for the transactions and £1,200 was the maximum Adams could authorise without approval.
Cash 'given away'
CCTV from the branch also captured Adams at the counter in August 2013 at the time that two transactions were made on Mrs McKay's account.
He was interviewed and admitted taking money from her account and "giving it away to friends and people he would like to be friends with", but denied taking money from any other accounts.
Mr Bedford added: "The accused, after making these submissions, became very upset and tearful and told the interviewers various troubling personal details which he seemed to be suggesting had contributed to his behaviour."
Adams was suspended at the end of the interview and later resigned.
The court heard that checks on other transactions carried out by Adams revealed "a number of similar suspect transactions" on the accounts of a second customer.
Between October 2012 and July 2013 a total of 23 transactions, each of £1,200, were made on her accounts.
She was able to provide a statement to police that she had no knowledge of the money being taken.