Punter who lost £92,000 on Celtic match loses legal bid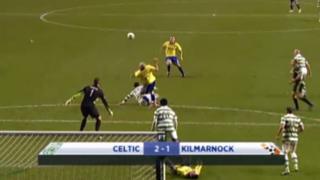 A man who lost £92,476 in an online bet has lost a legal bid to have his case reviewed by a senior Scots judge.
Gordon Shearer placed the 1/18 bet with Betvictor for Celtic to beat Kilmarnock in December 2011. They won 2-1.
Betvictor did not pay out or refund the stake after saying he bet Celtic to win the second half, which was 1-1.
Mr Shearer lost a betting adjudication appeal in England. A Scots court has now declined a judicial review on the basis it has no jurisdiction.
Following the dispute with Betvictor, Mr Shearer appealed to the Independent Betting Adjudication Service (Ibas) Ltd in England.
In summer 2012, administrators at the service refused to grant Mr Shearer's appeal and ruled in favour of Betvictor.
'Exhausted funds'
Lawyers acting for Mr Shearer wanted judge Lord Boyd to give the go-ahead for a judicial review into the Ibas's decision.
They told Lord Boyd that their client had "exhausted his funds" and "required to obtain legal aid" to take the case to the Court of Session.
However, Lord Boyd refused to grant permission to the request.
He said that Ibas was registered in England and that Scottish courts did not have any jurisdiction over it.
In the written judgement, Lord Boyd stated: "I refuse permission to proceed. I am not satisfied that the petitioner has demonstrated that the second respondent is subject to the jurisdiction of this court.
"It is a company incorporated in England and having its place of business in England.
"The adjudication was carried out in England. Rule 2(l) of paragraph 8 of the Civil Jurisdictions and Judgements Act 1982 applies and provides that jurisdiction lies in the courts in the place where the company has its seat, ie England.
"I have concluded that because the second respondent is not amenable to the jurisdiction of the Scottish courts that there are no real prospects of success.
"Even if it were to proceed the petitioner would face some formidable hurdles."