Deal proposed to end teachers' strike in West Dunbartonshire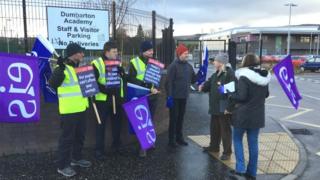 A deal has been proposed which could end the long-running teachers' dispute in West Dunbartonshire.
Secondary schools in the area have been hit by three strikes since January in an ongoing dispute about possible cuts to principal teacher posts.
The agreement would see a new structure introduced based on the role of subject principal teachers.
Members of the Educational Institute of Scotland (EIS) union will now be asked to vote on the agreement.
'Back to teaching'
General Secretary of the EIS, Larry Flanagan, said: "Following talks we are pleased to have arrived at a situation where we are able to recommend to our members acceptance of a proposal which will see the vital role of subject principal teachers recognised within the new curriculum structure.
"EIS members have shown a strong commitment throughout this campaign to achieve a model which will continue to deliver a high-quality education to West Dunbartonshire pupils. These proposals will facilitate that.
"We are hopeful the proposal will be endorsed by our members who will be keen to get back to teaching and learning across West Dunbartonshire schools."
The EIS ballot process will be conducted over the next week and the results will be announced next Thursday.
Councillor Michelle McGinty, convener of West Dunbartonshire's educational services, said: "It is a really positive step to have agreed a proposal with the aim of settling the dispute.
"That has always been the aim of everyone concerned.
"It is our hope that teachers will accept this joint proposal which strikes a balance between the council's strategy and the concerns of our teaching staff."