Teachers in West Dunbartonshire stage new two-day strike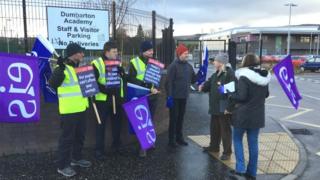 Secondary school teachers in West Dunbartonshire have resumed strike action amid an ongoing dispute about cuts to principal teacher posts.
Members of the Educational Institute of Scotland (EIS) union are walking out on Tuesday and Wednesday.
The dispute centres on a plan to cut the number of principal teachers and run departments together as faculties.
West Dunbartonshire Council said the system it plans to move to is similar to ones used in many other areas.
A council spokeswoman said: "We held further discussions with the EIS on Monday night in an effort to achieve a resolution.
"Both sides have committed to meet again this week as a matter of urgency."
EIS general secretary Larry Flanagan said:"EIS representatives met with members of the council's ruling administration in an attempt to resolve this dispute.
"However, no agreement was reached so our members in West Dunbartonshire secondary schools will proceed with two days of strike action on Tuesday and Wednesday this week."
He added: "Support from our members for the strike action remains very strong, and the EIS would again urge West Dunbartonshire Council to rethink their proposals which would have long-term serious repercussions for teachers and pupils in the authority's secondary schools."
Members of the EIS have taken part in two previous one-day actions.
The dispute centres on moves to cut the number of principal teachers of individual subjects.
Instead, there would be so-called "faculty heads", whose roles would cover a number of subjects.
For instance, a school might have one "head of humanities" in charge of subjects such as English and modern languages.