Driver faces jail for killing OAP crossing road in Glasgow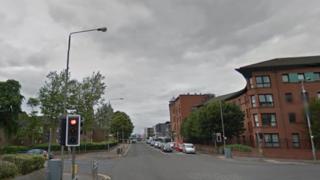 A man who knocked down and killed a 78-year-old pedestrian is facing a prison term after he admitted causing death by dangerous driving.
Sergej Rutkovskij ploughed into Robert Taylor on Glasgow's Gallowgate, at its junction with Abercromby Street and Bellgrove Street, on 27 March 2015.
The recently bereaved OAP was crossing the road when Rutkovskij sped off from traffic lights and hit him.
At the High Court in Glasgow, sentence on the 28-year-old was deferred.
The court heard that Mr Taylor's wife had died the previous month and it was believed that he suffered from dizzy spells brought on by the bereavement.
Fall injuries
On the day of the crash, the 78-year-old had injured his ribs in a fall.
Hours before he was killed, his niece Gina Taylor had visited his home on Gallowgate to make him dinner.
Mr Taylor then had a couple of pints at his local pub before seeing Ms Taylor off.
The court heard that as he walked back home, Mr Taylor was spotted "taking a considerable amount of time" to cross the road.
Around the same time, Rutkovskij was waiting at a red light in his BMW.
According to witnesses, he moved off "very quickly" when the traffic lights changed to green but Mr Taylor was still crossing the road.
Crash investigation
The front of the BMW hit Mr Taylor, throwing him onto the bonnet, against the windscreen, over the roof and onto the ground behind.
As other drivers came out of their cars to hep the OAP, Rutkovskij claimed he had not seen him.
Mr Taylor later died in hospital after suffering head and chest injuries.
Crash investigators concluded there had been "a complete failure" by Rutkovskij to see Mr Taylor.
Lithuanian Rutkovskij, from the city's Parkhead area, had his bail continued pending sentencing next month.