Mourners told to remember beautiful, smiling Paige Doherty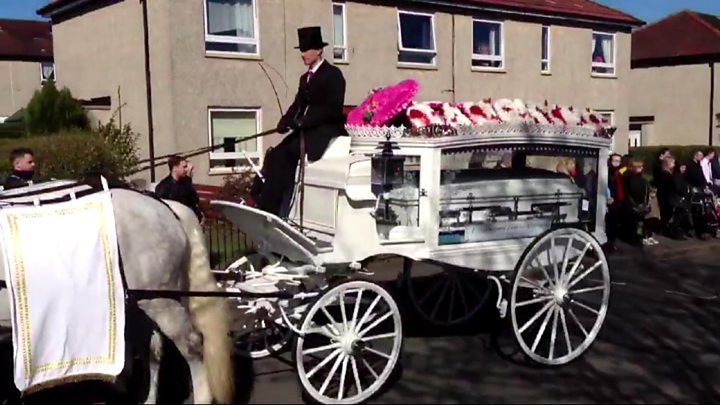 The mother of Clydebank teenager Paige Doherty has urged those angered by her death to put their energy into remembering a "beautiful smiling girl".
Pamela Munro paid tribute to her daughter during a funeral service at St Margaret's Catholic Church, Clydebank.
She told mourners the 15-year-old was now "the brightest star in the sky".
Paige's body was found in a wooded area in Clydebank on 21 March - two days after she went missing. John Leathem has been charged with murdering her.
Paige's mother, who arrived for the service in a bright red dress, and her husband Andy, had asked mourners to wear bright colours.
Family floral tributes laid outside St Margaret's spelled out sister, niece, daughter and Paige, and included an angel, rainbow, star and pouting lips.
There was standing-room only in the church as about 600 friends and relatives crowded in for the service with more locals lining the street outside.
The order of service carried a message of thanks from the family and a pouting picture of Paige as well as an image of angel wings with the tribute "your wings were ready but our heart was not".
'Incalculable loss'
The service was led by parish priest, Canon Gerald Tartaglia, who told the family: "The whole community is praying for Paige and for you - her mum, dad and dear family.
"I hope the support of so many, here today and beyond, really is a comfort to you while you continue to come to terms with your incalculable loss."
During the service, Mrs Munro paid tribute to her daughter and asked mourners to remember a happy girl.
She said: "Today will be the saddest and hardest day most of us will ever face, but I want everyone to take two minutes to ask yourself - when did you ever see Paige sad?
"When did you see Paige upset, scared and alone?
"The answer will most likely be never and if you have it will be very few and far between.
"You see, our daughter had a smile across her face every day and that's exactly how she should be remembered."
'Happy place'
Mrs Munro said there was "no disputing that Paige was taken from us in the most cruel way imaginable".
But she said she was comforted by knowing that her daughter "was in a safe and happy place where no-one could hurt her again" and was "surrounded by family that have left us before".
Mrs Munro acknowledged that many people would be feeling strong emotions over Paige's death but urged everyone to move on, saying: "There is no room for evil anymore."
She added: "I also know that if Paige can go through what she did, then we as a family, friends and community can learn to accept this tragedy and instead of dwelling on it and letting it take over our feelings and emotions we need to put that anger into remembering our beautiful, smiling girl."
Mrs Munro went on: "Paige, you are now the brightest star in the sky. I can say I loved you with all my heart as did the man who raised you.
"He is a broken man now you are no longer here and I know you will be watching over him giving him all your strength to go on.
"He will never get to walk you down the aisle to marry the man you love but he has walked you to your final resting place and will carry you in his heart forever."
She finished with a touching tribute to the keen dancer: "Take a look around, this is all for you! Sleep tight our beautiful girl. Keep dancing in the sky and show heaven what an angel really is."
Murder charge
After the service, Paige's white coffin was piped from the church and carried to Dalnottar cemetery in a white horse-drawn carriage pulled by grey horses wearing pink plumed headdresses.
Paige, who would have been 16 last Sunday, was reported missing after failing to turn up at her weekend hairdressing job on 19 March.
Her body was recovered from bushes at the side of Great Western Road in Clydebank two days later.
Mr Leathem, 31, has appeared at Dumbarton Sheriff Court charged with murder.
Paige's mother wrote on the eve of the funeral: "Wish there was a way we could turn back time and make sure this never happened.
"Unfortunately the world's a cruel place but Paige will always be around us for sure."