Warning after deer spotted running in Glasgow city centre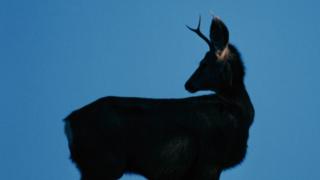 Police in Glasgow issued a warning after reports of a deer spotted in the city centre on Wednesday morning.
Officers tweeted: "We've had reports of a young deer running into the roadway near High St/George St/Albion St - please drive carefully."
Deer are found in the parks which are dotted around Glasgow and can often be seen grazing along the side of motorway embankments.
Thousands of deer strikes are recorded on Scottish roads every year.
And the Open Glasgow data project has information on dozens of deer strikes recorded by Scottish Natural Heritage (SNH) in and around Glasgow over more than a decade.
SNH say that if you hit a deer and someone may be injured, or there could be a road hazard, call 999.
They also warn not to approach an injured deer as it could be dangerous.