Body of missing Sarah Goldie found in River Clyde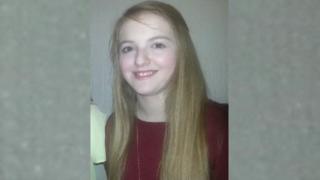 A body found in the River Clyde in Glasgow on Sunday afternoon has been identified as missing teenager Sarah Goldie.
The 18-year-old had been missing from her home in Renfrew since 11 March.
That night a woman was seen in the water and Miss Goldie's bag was found nearby.
On Sunday afternoon The Millenium bridge, near the Science Centre at Pacific Quay, Glasgow, was closed as a boat appeared to be searching the area.
Police said there appeared to be no suspicious circumstances surrounding Miss Goldie's death. A post mortem examination was due to be carried out.
Miss Goldie's father Gordon has previously said he believed the woman spotted in the water in March was his daughter, and he thanked two strangers who jumped into the river after her.
The teenager was reported missing after failing to return home from a trip to Glasgow.