Man in court over fire and explosion at Tollcross flat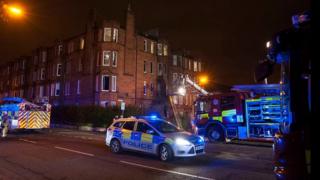 A man has made a second appearance in court charged with causing an explosion and fire which injured people at a block of flats in Glasgow.
Scott Peden, 30, is alleged to have ignited butane gas or similar in a bid to heat a substance that was suspected to contain drugs, in a pressure oven.
Several people were badly hurt in the incident, which also killed a cat and dog, in Fairburn Street on 21 March.
Mr Peden made no plea or declaration and was remanded in custody.
'Culpable and reckless conduct'
Mr Peden, of Fairburn Street, in Glasgow's Tollcross area, appeared in private at Glasgow Sheriff Court for a full committal hearing.
Papers from the court claim Mr Peden acted "culpably and recklessly and with utter disregard" for the safety of other people in the building.
It is claimed that flat 0/2 was destroyed and the structure of the building was "significantly damaged" and fire, poisonous and noxious gases and smoke spread throughout the building.
Mr Peden and two others were all within the flat and were severely injured.
Prosecutors claim that two people within a flat on the first floor were "overcome by poisonous and noxious gases to their severe injury and the danger of their lives" and their dog was fatally injured.
Burns and smoke inhalation
It is alleged that two other people in a flat on the second floor inhaled smoke and suffered burns on their body to their severe injury, permanent disfigurement and danger of their lives.
Another two people in a third floor flat were exposed to smoke and noxious gases to the danger of their lives, it is claimed.
The charge also alleges that Alexander Elder, who was in a second floor flat, was "forced to jump from a window to escape fire which had taken hold" to his severe injury, permanent impairment and to the danger of his life. Mr Elder's cat was so severely injured that it died.
Mr Peden faces a further charge of attempting to produce a class B drug.
He is expected to appear at court again at a later date.