Asad Shah death: Thousands donate to shopkeeper fund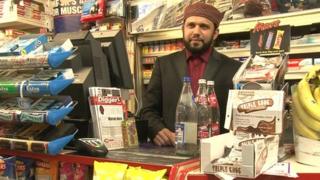 Donations to an online fundraising page set up to support the family of a shopkeeper who died after an attack outside his shop have passed £75,000.
Asad Shah was found seriously injured in Minard Road in the Shawlands area of Glasgow on Thursday night and pronounced dead on arrival at hospital.
Hours earlier, the 40-year-old had wished Christians a happy Easter in a social media post.
A 32-year-old man has been arrested in connection with Mr Shah's death.
Police Scotland has confirmed that both Mr Shah and the arrested man were Muslims. The incident was being treated as religiously motivated.
'Always protected'
Senior officers have written a letter of reassurance to people in the south side of the city, vowing to deal "swiftly and strongly" with any "sectarian conflict, hatred or extremism".
The letter stated: "We are proud of our community cohesion. Through continuing to work and engage with our communities we will ensure they remain safe and are always protected.
"If you have any concerns, please feel able to contact your local policing teams, who will be happy to help. Additional patrols and police visibility have been arranged to help reassure you at this difficult time."
A GoFundMe page was created following the incident by some of Mr Shah's customers to raise funds for his family.
Posts on the page describe Mr Shah as a "popular, well-respected and much-loved" member of the community.
More than 3,700 people have donated, with more than £75,000 being raised by late afternoon on Monday.
Two vigils were also held in the local area over the weekend.
A silent vigil on Friday evening was attended by about 400 people, including Scottish First Minister Nicola Sturgeon, whose constituency covers the area.
An event held on Saturday was organised by local teenagers on social media.
Aleesa Malik, 17, said: "He would want to know how are you, what are you doing. He took an interest in everyone's lives - old, young, anyone.
"You could be any colour, that would not be an issue for him, he just cared too much."