Police probing Glasgow 'zimmer' assault release CCTV images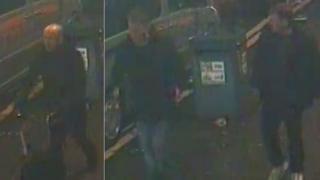 Police have released images of three men they believe may be able to help with inquiries into a serious assault in Glasgow city centre last month.
A 26-year-old man was seriously injured in an attack near the Cathouse nightclub on Union Street at about 23:25 on Wednesday 3 February.
Police said a zimmer or support frame was also thrown during the course of the incident.
Officers urged anyone who recognised the three men to contact them.
The first man was described as white, 30-40 years old, balding head, medium build, dark jacket and dark trousers. He was pushing a three-wheeled zimmer or support frame.
The second was also white, 30-35 years old, stocky build, dark clothing, short dark hair and white trainers.
The third man was white, 30-35 years old, stocky build, dark jacket, blue jeans, light brown hair and dark footwear.
Det Con Stacy Smith said: "This was a brazen attack in Glasgow city centre which has left a man requiring hospital treatment for serious injuries.
"We are not aware of the suspects' motivation to attack the man at this time. Our inquiries continue to determine the circumstances surrounding the assault and I appeal to anyone who may have been walking or driving in the area and witnessed the incident to contact police.
"Anyone who recognises the three men described above is also asked to contact police."