Pupils found 'playing' with baby tarantula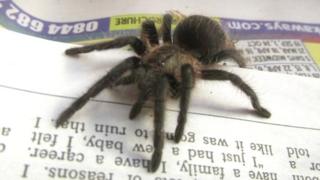 A baby tarantula is being cared for by an animal charity after schoolchildren were found playing with it.
The Scottish SPCA said the arachnid was found at a petrol station in Bellshill, North Lanarkshire, on Tuesday.
A woman heard children saying they planned to dump the spider in a bin and contained it until an officer from the charity arrived and took it into care.
The Scottish SPCA said the spider may belong to someone nearby. If no-one comes forward it will be re-homed.
'Popular pets'
Animal rescue officer, Emma Sergeant, said: "The lady who rescued the tarantula had heard the children were planning to dump it in the bin.
"Although she has a fear of spiders, she managed to contain it until I arrived.
"While tarantulas frighten a lot of people, they are actually quite popular pets."
Ms Sergeant said the Scottish SPCA would like to hear from anyone who may have lost the spider.
"If no-one comes forward we'll find it a new owner who understands its needs," she said.