Jobs threat at medical equipment plants in Ayrshire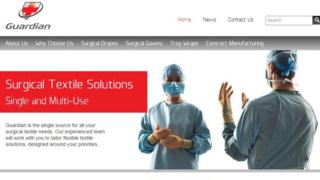 A medical equipment firm is consulting its employees on plans to close one of its two Ayrshire factories and move more production work to China.
Guardian, formerly BDF Healthcare, makes products for surgical theatres and employs about 120 people at sites in Girvan and Patna.
Parent group, Berendsen PLC, said a consultation had begun on Tuesday and would run for 30 days.
The firm said redundancies were a possible outcome but not definite.
Berendsen spokesman Alistair Hopkins said: "We've got two plants in Scotland - one in Girvan, and one in Patna.
"A proposal has been put together and a consultation process has now started about closing one of those sites and moving some further work to China.
"We already do a lot of production work in China."
He added: "We are retaining a presence in Scotland, that is definite."