Evacuation amid safety fears over Irvine garage fire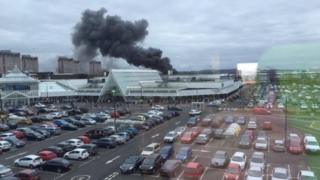 A fire at a garage in Irvine has prompted emergency services to evacuate the surrounding area amid fears about smoke and harmful chemicals.
Fire crews were called to the garage, in Ayr Road, at 12:58. They worked with police to clear the area after discovering the presence of acetylene.
Local residents have been advised to keep their windows closed because tyres are on fire and thick black smoke is affecting neighbouring properties.
No-one has been injured in the fire.