Rush-hour delays after Glasgow Queen Street tunnel closure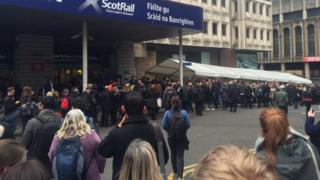 The closure of the tunnel at Glasgow Queen Street station has led to rush-hour delays.
The tunnel used by Edinburgh, Aberdeen and Stirling services closed on Sunday for five months as work got under way on a £60m repair project.
There were said to be no delays during the morning rush hour, however customers were reporting waits of up to 40 minutes in the evening.
ScotRail said passengers faced a 20-minute wait "at most".
'Absolute nightmare'
Commuter Lisa Davidson said in a Facebook post: "What an absolute nightmare trying to get a train home from Queen Street Station.
"Waiting in a shambles of a queue for 40 minutes which went right up Buchanan Street and no one even knew what train it was for.
"Some commuters were acting like feral beasts pushing and shoving and screaming at police/staff."
One Twitter user said: "Can't deal with this queen street situation for the next 5 months, absolute shambles."
Another said: "Queen Street in chaos but I do like a good queuing system. Good luck ScotRail you will need it."
A spokesman for ScotRail said: "A queuing system has been put in place and at the most passengers are facing a 20 minute wait.
"This was the first day of operations and we've learnt a few lessons tonight.
"We plan to add more capacity to the queuing system tomorrow."
Queues were expected outside the station on Monday morning as weekday commuters got to grips with the changes but ScotRail said the system had worked well.
One-way queuing systems will be in operation during peak times, with queues also expected at other major stations such as Glasgow Central and Edinburgh Waverley during busy periods.
Diversions caused by the work will add about 25 minutes to most journeys.
Following the morning rush hour, Phil Verster, managing director of Scotrail Alliance, told BBC Scotland: "It is only the second day and we are very pleased.
"Our customers flow through the station very well and seem to have understood our message that Queen Street Station is not closed.
"It is only the high level that is unavailable and we run many services through the low level and all destinations are still served."
He added that it would be a transformational change that would be "worth the hassle and discomfort."
The £60m upgrade will allow faster, longer trains to operate from the station.
Tracks which are more than 40 years old will be replaced and power lines installed to allow electric trains to operate on the Edinburgh-Glasgow route from December 2016.
The work involves the removal of 10,000 tonnes of existing concrete slabs and the installation of 4,000m of new rails.
It forms part of the Glasgow and Edinburgh Improvement Project which, in the longer term, will see a major revamp of the station buildings.
Transport minister Derek Mackay said the works were "absolutely necessary".
"Of course there's the inevitable disruption we are trying to minimise," he said.
"This is why we have put so many contingency plans in place.
"It's the tracks that are being upgraded and repaired, upgraded not for a few years but for a generation."