Woman who threatened 'suicide pact' mother and daughter dies in prison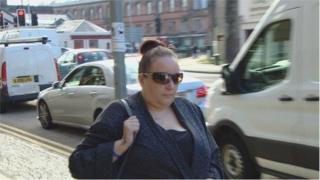 A woman jailed after trying to extort money from a mother and daughter who died in an apparent suicide pact has died after collapsing in prison.
Linsey Cotton, 33, was jailed for three years in October after admitting fraud and threatening Margaret and Nicola McDonough.
The women died in hospital after being found seriously injured in a hotel in Greenock in May 2013.
Police said they were investigating the death of a prisoner at HMP Saughton.
Paisley Sheriff Court heard that Cotton tricked Michael McDonough, 33, out of £5,000 and then tried to extort £5,500 from his mother Margaret, 53, and her daughter Nicola, 23, from Paisley.
She told the women they faced 20 years in jail for breaching a non-existent confidentiality clause.
A Police Scotland spokeswoman said: "Police in Edinburgh are investigating after the death of a 33-year-old woman prisoner from HMP Saughton on Sunday morning.
"A report will be sent to the procurator fiscal."
Fatal accident inquiries are routinely held for deaths in custody.