North Glasgow set for 170 new homes for rent in £30m deal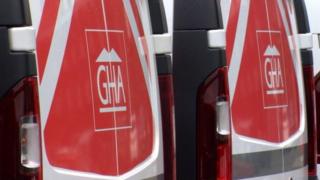 Scotland's largest social landlord has announced £30m plans to build more than 170 new homes in the north of Glasgow.
Wheatley Group, which owns Glasgow Housing Association (GHA), said the homes would be built in the Milton area of the city over the next few years.
The plans include 70 homes for rent on empty land at Liddesdale Road and 54 homes at Cathay Street.
Outdated flats around Scaraway Street will also be demolished and replaced with 50 more homes for rent.
The new homes will be built by GHA and Wheatley's other subsidiary, Cube Housing Association.
'We listened'
GHA chair Gordon Sloan said: "We listened carefully to people in Milton during a community consultation.
"What people told us was that many of the existing tenements are just no longer the kind of homes people want to live in.
The new homes Cube and GHA will build, and the improvements to existing homes, will make a huge difference to the community and I look forward to seeing our plans take shape."
Wheatley Group said the new homes being built had been made possible through the issue of a £300m public bond on the capital markets in late 2014.
The 70 homes being built at Liddesdale Road include 21 flats specially adapted for older people and seven for wheelchair users.
Housing Minister Margaret Burgess said the developments amounted to a "significant investment".
"Families in the Milton area will reap the benefits from these new environmentally-friendly affordable houses because they are easier to heat, helping to drive down energy bills and tackle fuel poverty," she said.