Residents injured in Bishopbriggs tenement fire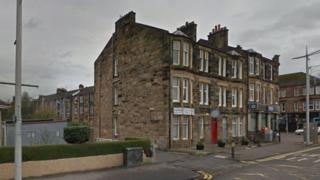 Four people have been treated by paramedics following a fire at a tenement block in East Dunbartonshire.
Crews were called to the three-storey building in Kenmure Avenue, Bishopbriggs, at about 10:35 on Monday.
Two people were led to safety and treated at the scene for burns and the effects of smoke inhalation.
A third person was also treated for smoke inhalation and fourth for an underlying health condition. An investigation will now be held.