Gold coins among £174,909 of crime cash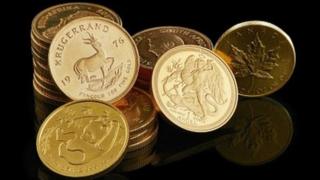 Gold coins, gold, cash and jewellery seized following a high-speed car chase with police in February 2012 have raised £174,909 for good causes.
The haul, which included 19 South African Krugerrands, was later forfeited as proceeds of crime.
The Krugerrands were sold for £16,340 with total sales from gold at £45,669. The jewellery fetched £19,000 and the cash totalled more than £110,000.
All proceeds will go to Scotland's Cashback for Communities scheme.
The programme uses proceeds of crime to fund activities and programmes for young people across Scotland.
'Positive activities'
Linda Hamilton, head of the Civil Recovery Unit, said: "This case demonstrates the powers of the civil courts to strip cash and valuables that cannot be legally explained.
"In this case a simple traffic stop has led to the first ever seizure of Krugerrands in Scotland under Proceeds of Crime, and the raising of almost £175,000 that will be spent on positive activities for children and young people throughout Scotland."
The Krugerrands, gold, cash and jewellery were found in the possession of 44-year-old Yvette Booth, from the Shawlands area of Glasgow.
On 29 February 2012, she was seen to be driving erratically on the A82 near Dumbarton.
Police officers at the scene attempted to stop her car but she fled and was only brought to a halt after a high-speed chase.
When the car was searched, officers found bags of cash and a substantial amount of gold and jewellery.
A forfeiture order was granted on 14 May 2015 on the basis of Ms Booth's partner's alleged involvement in drug dealing and money laundering.
The cash seized, and the funds raised from auctioning off the Krugerrands, gold and unclaimed jewellery, will be transferred to the Scottish government on 7 March for use in the Cashback for Communities programme.