Twenty Faslane workers exposed to radiation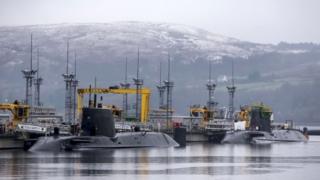 Twenty workers at the Faslane nuclear submarine base were exposed to radiation due to safety errors, newly-released documents have revealed.
The engineers were repairing a leaking tank on a Trident submarine while a nearby nuclear reactor was operated.
Details of the incident, in August 2012, at the Clyde site emerged after Freedom of Information (FOI) requests by an anti-nuclear group.
The Ministry of Defence said no-one was harmed and safety had been improved.
MoD reports into several incidents at the Faslane base were obtained using FOI legislation by the campaign group Nuclear Information Service.
In the most serious, in August 2012, MoD contractors were repairing a leaking tank on a submarine moored at Faslane, unaware that a nearby nuclear reactor was being operated for prolonged periods.
They were reassured about safety, even though their team leader had queried the controls in place.
The report said: "There was a prolonged and repeated failure of the SS [ship's staff] to understand and control the radiological hazard they were creating."
The MoD report has been heavily redacted and does not reveal the level of radiation each worker was exposed to.
Other reports obtained by the campaign group reveal:
In April 2012 a visiting training team was not issued with badges that measured exposure to radiation
In February 2013 a sailor returned to base with a "sponge bung" which should have been checked for contamination
In December 2013, a man employed by Babcock removed a grille and stuck his head into a tank, exposing himself to a small amount of radiation
What do we know about Faslane on the Clyde?
Faslane is one of the Royal Navy's three main operating bases, alongside HMNB Devonport and HMNB Portsmouth.
It is best known as the home of the UK's four Vanguard-class nuclear-armed submarines which carry Trident II D-5 ballistic missiles.
About 3,000 service personnel are based at Faslane along with 800 family members and approximately 4,000 civilian workers.
The future of the base became a key battleground ahead of last year's Scottish independence referendum.
The four Trident-armed Vanguard submarines are due to retire by 2028, although the missiles they carry will have their operational lives extended to 2042.
Work has already started on designing a replacement system, which would enter service between 2028 and 2035, but a final decision has yet to be taken.
The SNP said the reports raised more questions about safety at the Faslane base.
Defence spokesman Brendan O'Hara said: ''The MoD - once again - stands accused of a very poor approach to radiation safety at the Faslane base.
"When it comes to protecting our armed forces personnel, the contractors working at the base, as well as the wider community, nuclear safety must be paramount.
''These incidents and how they were subsequently handled, pose real and serious questions, not just about nuclear safety procedures at the base - but also whether the regulator, the ONR, is doing enough - and quickly enough - to address these concerns.
''The MoD must investigate and explain why these failings occur and lay out precisely what it is doing to get it sorted.''
The MoD said safety at the base was paramount and none of the events described in the reports caused harm to the health of any member of staff or to any member of the public.
A spokesman said: "Investigations were carried out and measures put in place to prevent such incidents from occurring again, and we continue to conduct rigorous monitoring as part of our commitment to maintain the highest standards."