West Dunbartonshire secondary teachers strike on hold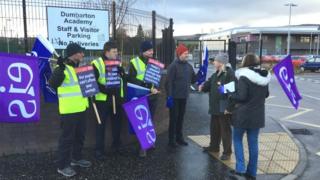 A planned two-day strike by secondary teachers in West Dunbartonshire next week has been put on hold.
The dispute is over a planned shake-up which would cut the number of principal teachers of individual subjects.
Members of the EIS union have already held two one-day strikes and were due to hold two more next week.
The union said it had suspended the action while it consulted members on fresh proposals from the council.
The row centres on moves to cut the number of principal teachers of individual subjects.
Instead there would be so-called "faculty heads", whose roles would cover a number of subjects.
For instance, a school might have one "head of humanities" in charge of subjects such as English and modern languages.
The other concern is over moves to have fewer teachers specialising in pastoral care for children.
If members reject the proposals, the likelihood is that new strike dates will be announced.
Although next week's strikes have been suspended, a work to contract rule will continue until the dispute is settled.
In January and February, all five main secondary schools in West Dunbartonshire were closed for a day after EIS teachers went on their first strike since the 1980s.