Glasgow waste plant blaze 'not toxic' says fire service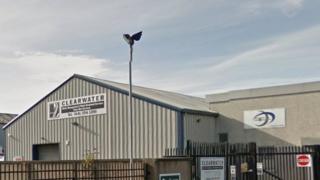 Smoke and dust from a blaze at a waste management and treatment plant in the east end of Glasgow contained no toxic chemicals, the fire service has said.
Crews were called to the Clearwater plant, in Boden Street, in the city's Bridgeton area at 17:30 on Thursday.
Three staff were evacuated and local people were advised to keep windows and doors closed as a precaution.
A scientific advisor established there were no harmful particles in the air. Crews left the scene at midnight.