Chromebooks for every P7 pupil in West Dunbartonshire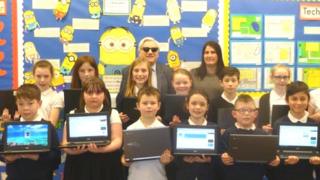 West Dunbartonshire Council is to spend £250,000 to buy Chromebooks for every P7 pupil in the area.
The move will see more than 950 of the mobile devices purchased for pupils at 34 primary schools.
The Chromebooks will be kept in school and used to present class work and also for research and revision.
Education services convener, Councillor Michelle McGinty, said the policy would ensure pupils were "not disadvantaged regardless of their background".