Taxi driver robbed on M74 in South Lanarkshire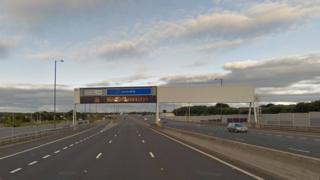 A taxi driver was robbed on a motorway during a series of incidents in South Lanarkshire on Saturday that police believe may be related.
In one incident, three men took cash and a radio from a taxi driver when he stopped on the hard shoulder of the M74 after being threatened.
A short time later in Rutherglen, two men threatened a man and demanded money from him.
Officers are also investigating after a car was vandalised in Rutherglen.
Police said that given the proximity and the circumstances of the crimes, they believed the same men were responsible for the incidents.
'Badly shaken'
The first incident happened at 22:00 on Saturday, when a 35-year-old taxi driver collected three men from Govanhill.
Police said that while they were in the taxi, "racial remarks were directed" at the driver before the men threatened the driver and demanded money.
He stopped the cab on the hard shoulder of the M74 near Junction 2 and got out. The three men then stole cash and a radio and ran off.
The taxi driver was uninjured but was left "badly shaken" by the incident.
Officers are appealing for any motorists who were on the M74 at about the time of this incident to get in touch with them.
Second incident
The second incident happened at about 20:40 at Baronald Street, Rutherglen.
A 24-year-old man was trying to enter a common close when two men approached him from behind, threatened him and demanded money. A third man was also at the location.
The suspects were white and had local accents. They were aged between 17 and 25 and had short hair.
They were described as being of medium build, about 5ft 10in tall and were wearing dark clothing.
Officers are also investigating a report of vandalism at about 20:55 on the same day in the Tesco car park in Dalmarnock Road, where a car was damaged.
Det Con Neil Dooher said: "It's clear from their actions that these men think they are above the law but I can assure you that is not the case.
"A team of detectives is in the process of reviewing CCTV images from around these locations, gathering additional information and finding new lines of inquiry.
"The behaviour of these men is unacceptable and I am appealing to local residents within these areas to speak to us and pass on any information they may have."