Monsignor Brian McGee installed as Bishop of Argyll and the Isles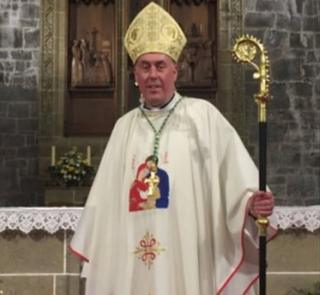 Monsignor Brian McGee has been formally installed as the new Roman Catholic Bishop of Argyll and the Isles.
He was consecrated by Archbishop Leo Cushley of St Andrews and Edinburgh during a special service at St Columba's Cathedral in Oban.
The Argyll and the Isles diocese had been vacant since Bishop Joseph Toal became Bishop of Motherwell in 2014.
Mgr McGee was previously Vicar General of the Diocese of Paisley and parish priest of Holy Family in Port Glasgow.
The President of the Catholic Bishops' Conference of Scotland, Archbishop Philip Tartaglia, said: "I congratulate Mgr Brian McGee on his nomination and consecration as Bishop of Argyll and the Isles and look forward to welcoming him to the Bishops' Conference.
"When I was Bishop of Paisley, Brian was one of my priests. He was a dedicated pastor and a thoughtful priest.
"I have no doubt that he will make his own distinctive and valuable contribution to the deliberations of our conference."
Bishop McGee was born in Greenock in 1965 and educated at St Joseph's Primary School, Greenock, Holy Cross Primary School, Greenock, St Vincent's College, Langbank, St Mary's College, Blairs, and St Patrick's College in Thurles, Ireland.
He was ordained a priest for the Diocese of Paisley in 1989.