Scottish horse racing enjoys 'bumper year'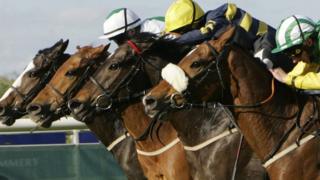 Horse racing enjoyed a bumper year in 2015 as thousands of punters flocked to Scotland's five racecourses, according to a new report.
Scottish Racing said about 308,000 people visited racecourses at Ayr, Hamilton Park, Kelso, Musselburgh and Perth - a seven year high.
In its annual review it claimed the sport was worth an estimated £173m annually to the national economy.
A record £6.7m in prize money was paid out to successful racehorse owners.
Scottish Racing chairman Sir Ian Good said the sport made a "considerable contribution" to the wider economy during 2015.
"Direct annual expenditure has been estimated at £55m, with a wider economic benefit of approximately £173m," he added.
Sir Ian said: "The sport itself helps to maintain a total of some 870 full-time equivalent employees, both directly and indirectly, playing its part in a buoyant leisure market.
"The racecourses are being rewarded with increased attendances through their brilliant promotion of the sport, offering fantastic days and evenings out.
"Accompanied children are admitted free at every meeting, making a trip to the races a really affordable family occasion.
"People love a day at the races, it's safe, it's fun and there's a chance of winning with a small flutter."
Other success highlighted in the annual review include:
Total crowds at the 101 fixtures rose 3.5% on the previous a year and by 13.7% over three years
Scotland's most prestigious race meetings - the Scottish Grand National and the Ayr Gold Cup Festivals - attracted a combined 40,000 spectators
The average attendance at the 13 fixtures at Kelso racecourse rose by 12.6%, the largest increase among the five racecourses
A record 10,300 people went to Ladies Day at Musselburgh Racecourse when the richest race of the year, the £100,000 Scottish Sprint Cup was run
The Scottish Grand National at Ayr Racecourse paid out prize money of £210,000 - second only among handicap jump races to the Grand National at Aintree
Ayr, Hamilton and Musselburgh racecourses were rated among the top 12 in Britain by racehorse owners.
The positive review was welcomed the ruling body of the sport in the UK.
Nick Rust, the chief executive of the British Horseracing Authority, said: "The great strength of horseracing in Scotland is the united approach adopted by the five racecourses.
"Scottish Racing benefits from collective methods both inside Scotland and beyond.
"One of the success stories is how the racecourses attract runners from not only south of the border but also overseas.
"While the sport is in such capable hands, the future is bright for horseracing in Scotland."