Homeless World Cup to be played in Glasgow this summer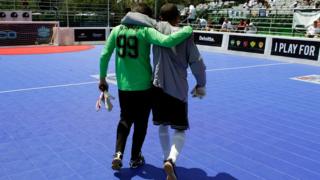 The Homeless World Cup will be played in Glasgow for the first time this summer.
The football tournament for men and women who have no fixed address will run for seven days from 10 July.
George Square will be transformed into three football pitches with seating for an estimated 100,000 spectators.
A total of 51 countries are expected to take part in the competition, which first took place in Graz, Austria in 2003.
Up to 100,000 spectators are expected to attend the tournament, which will see 64 teams compete.
Entry is free and tickets are not required.
Mel Young, the president of the Homeless World Cup Foundation, said Glasgow will be an "amazing" host city.
He said: "This is significantly more than a football tournament - it's a real celebration of optimism.
"We will have 512 players with us, and every single one of them is at some stage of their journey towards a more stable future.
"We want people to come to George Square in their tens of thousands this July, and feel that sense of optimism, and to be inspired by it.
"Knowing Glasgow as we do, there are surely few better places in the world to celebrate our movement."
Edinburgh hosted the event in 2005 and Scotland's men's team won the trophy in 2007 and 2011.
Organisers claim it has the power to change the lives of the participants who are selected to represent their country.
---
Previous winners of the Homeless World Cup
Men's tournament
2015 Mexico
2014 Chile
2013 Brazil
2012 Chile
2011 Scotland
2010 Brazil
2009 Ukraine
2008 Afghanistan
Women's tournament
2015 Mexico
2014 Chile
2013 Mexico
2012 Mexico
2011 Kenya
2010 Brazil
2008 Zambia
Source: www.homelessworldcup.org
---
Street Soccer Scotland, founded in 2009, is the organisation which represents Team Scotland at the Homeless World Cup each year.
The programme delivers football-related personal development and training sessions for around 1,000 socially disadvantaged people every week.
Its founder and chief executive David Duke said: "It's great to offer our players, who will be selected from the many thousands who take part in our hundreds of football programmes across the country, with an opportunity to represent their country on home turf."
Glasgow City Council depute leader Archie Graham, who was responsible within the council for the delivery of the 2014 Commonwealth Games, said: "Sport changes lives - we know that from experience in Glasgow.
"It inspires and connects with people on so many levels and the Homeless World Cup is the perfect example of that.
"It raises awareness of the challenges faced by many people in communities across the world, but more than that, it shows what can be achieved by working together."