Scots couple Arthur and Emma Howard toast £1m lotto win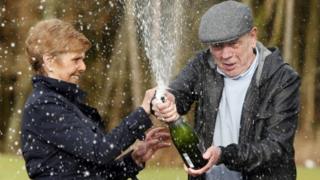 A Scottish couple are celebrating after winning £1m and all-expenses paid break to Dubai in a EuroMillions draw.
Arthur Howard, 74, and his 75-year-old wife Emma, from East Kilbride, South Lanarkshire, had the winning ticket for the Mega Friday draw on 29 January.
Mr Howard said he "went into complete shock" after phoning the claims line and hearing the words "Congratulations, you're a millionaire.
He now plans to trade in his taxi for a new Audi car.
Mr Howard said: "It has taken a while to sink in, I even had to phone the claim line twice just to make sure it was the real thing.
"When I first phoned and heard the words 'congratulations you're a millionaire' I went in to complete shock and told the call handler I would have to hang up and give her a call back."
Mr Howard added: "My youngest son came over to me as he was worried something was wrong as all the colour had drained from my face.
"I told him and he wouldn't believe me so we called the claim line back, putting it on loud speaker this time, and she said it again 'you are a millionaire'. It really was quite something."