Temporary traffic measures for A82 verge clearance work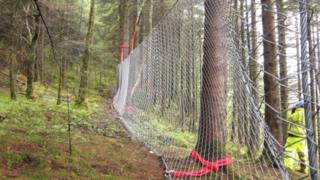 Traffic management measures will be put in place on the A82 at Loch Lomond next week for road maintenance work.
Temporary traffic lights and stop-go boards will be in force from Monday 15 February until Easter between Tarbet and Inverarnan.
The £140,000 programme will see tree and drainage clearance and loose rocks removed from the verge of the road.
Transport Scotland is working on plans to fully upgrade the 10.7-mile section of road at the north of Loch Lomond.
Transport Minister Derek Mackay said: "Last October we were able to let the public see and comment on the preferred route option to upgrade the road between Tarbet and Inverarnan, and we are now taking forward the next phase of design which will lead to the preparation of draft orders.
"Last year I took a trip in an HGV to see for myself the challenges of driving the route and as a result I pledged to carry out a programme of measures to improve the route in advance of the upgrade for all road users, but particularly those driving long vehicles.
"This work will be getting under way next week and will include the clearing away of vegetation, overhanging trees and the removal of loose stones and rocks from the verge of the existing road as well as the clearance and improvement of the existing drainage system."
'Additional protection'
The work will also include the installation of temporary catch-fencing at Primrose Bay, one mile north of Alt Sigh on the A82.
Alex Macleod, who is managing the A82 catch-fencing project for Forest Enterprise Scotland, said: "Installation of the catch fencing will provide additional protection to the A82 when the tree felling begins later in the year but we're putting in the catch-fencing now whilst road use is still relatively light compared to the spring and summer months.
"Traffic management will be required throughout the works in the form of a lane closure Monday to Friday and we'll make the most of the limited daylight hours at this time of the year.
"We will remove the traffic lights at the end of each working day."