Chinese New Year celebrated in Glasgow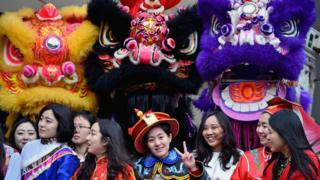 Weekend celebrations have been taking place in Glasgow to mark Chinese New Year.
Members of the Chinese community turned out in traditional dress in the city's George Square to join the festivities.
The Year of the Monkey officially begins on Monday 8 February and lasts until 27 January 2017.
New year celebrations include spring cleaning, decorations, feasting, spending time with family, fireworks and wearing lucky colours.
Unfortunately the Scottish sun failed to shine down on the George Square celebrations, which had to finish early because of bad weather.