Police firearms exercise at Braehead shopping centre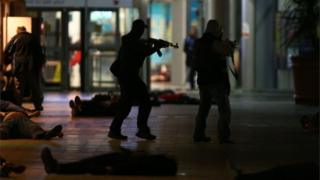 Police have carried out a training exercise at a Scottish shopping centre to test their response to a major firearms incident.
The operation at Intu Braehead involved all of the emergency services.
Police Scotland insisted that the exercise was not staged in response to the terror attacks in Paris.
The officer in charge said it allowed firearms specialists to practise working with the other emergency services in a crowded place.
Assistant chief constable Bernard Higgins said: "The emergency services and partners plan extensively for a wide number of challenging situations from naturally occurring events caused by the weather to significant industrial accidents or criminal acts.
"This exercise has been in the planning for a year and specifically focuses on a major firearms incident and will test how our specially-trained armed officers respond alongside other emergency services at a crowded place, which for the purposes of this scenario, is a major shopping venue.
"I must reiterate that this exercise is not in response to recent events in Paris or any threat to any specific location."
Mr Higgins added: "Whilst everyone in Scotland hopes we never have to activate any major incident plan, it is important that we are ready to do so should the need develop.
This proactive approach to preparedness helps to protect Scotland's status as a safe and secure country."
The shopping centre was closed throughout Tuesday evening to allow the exercise to take place.
Braehead general manager Gary Turnbull said: "The emergency services do an extremely important job keeping the public safe.
"This training, planning and preparation to deal with all eventualities is essential and we had no hesitation allowing them to use our facilities for their exercise while the centre was closed."